---
Interessante dettaglio sulla parete
nordest del cratere Aristillus
Collaborazione fra Astronomica Langrenus e "Lunar Dome Atlas - GLR Group Project". In questo caso il cratere ARISTILLUS è oggetto di particolari attenzioni per comprendere l'origine di un interessante dettaglio sulla sua parete di nordest - Telescopio Mak Rumak 255mm F20 + camera I.S. DBK41 risoluzione 1280x960.
---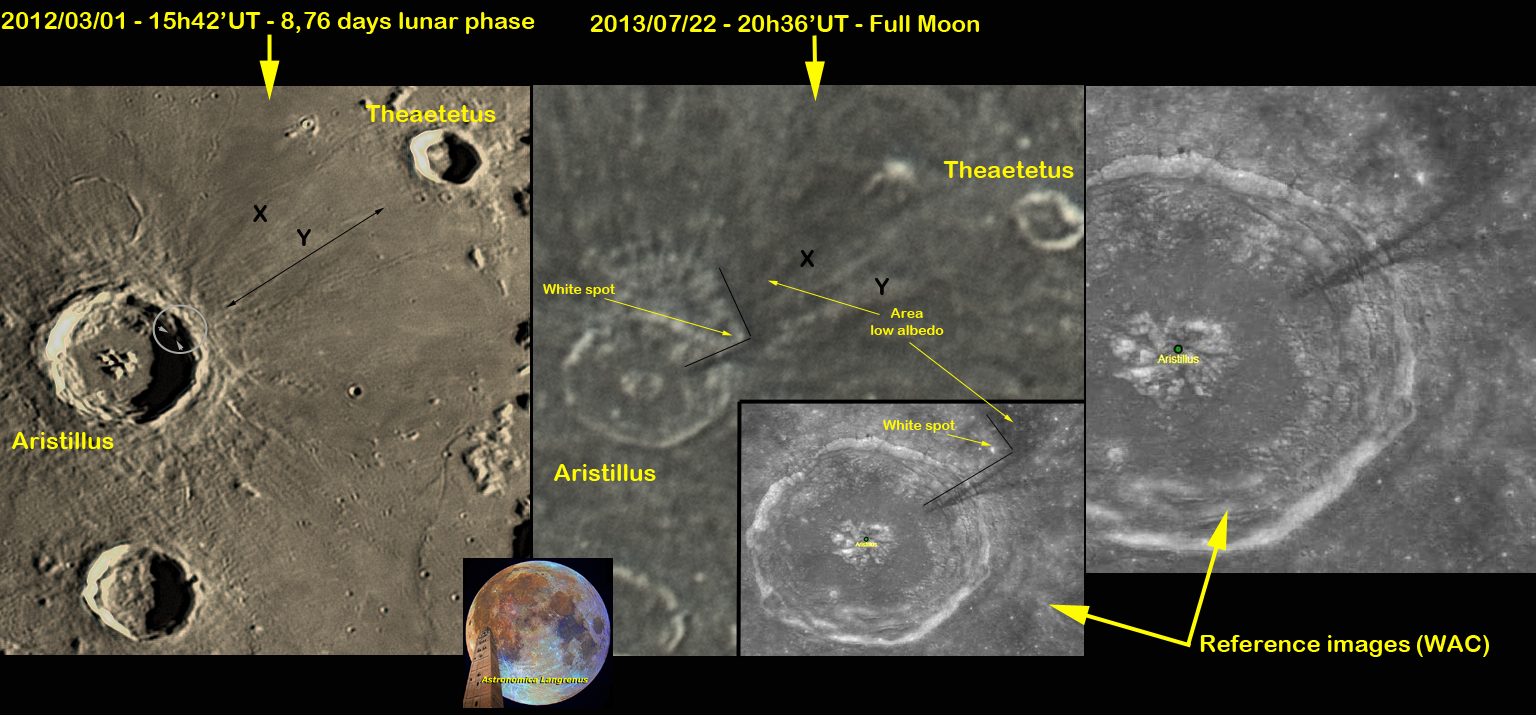 (Up): At the present time I have not other images of Aristillus crater and his detail. I hope that my this little work is not muddler but I want a comparison among my images taken 2012/03/01 at 15h42'UT and 2013/07/22 at 20h36'UT with the WAC image for reference. I used from Cremona a Mak Rumak 255mm F20 telescope with camera imaging Source DBK41 res. 1280x960.
---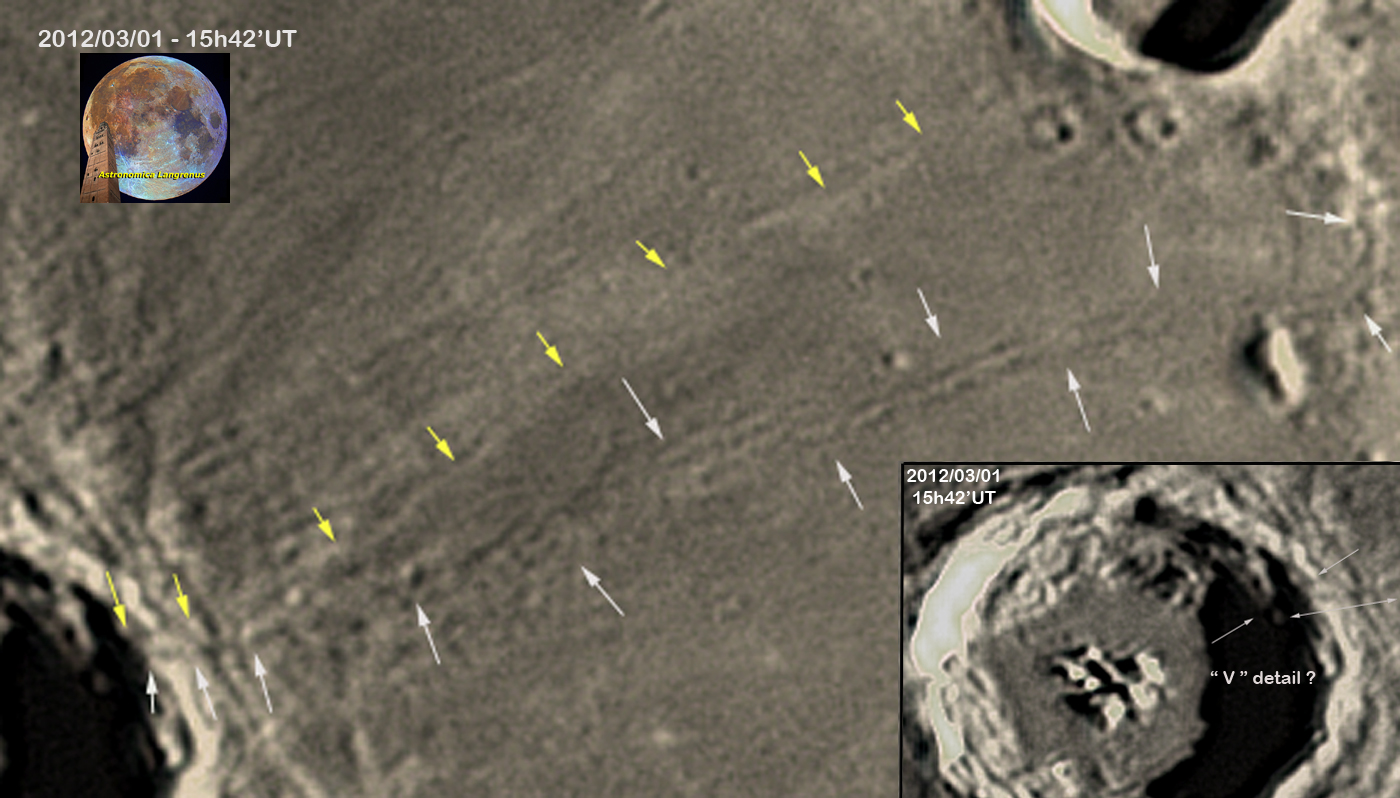 (Up): Observing this image taken on 2012/03/01 at 15h42'UT I send you a my personal and likely interpretation about the V detail on northeast wall of Aristillus. Yellow arrows to show the extension of north segment in direction of Theaetetus crater, while the white arrows to show the extension of south segment of "V" along a chain (??) of small craters to end on southern area of Theaeteuts crater. I'm not an expert but this is only a my interpetation.
---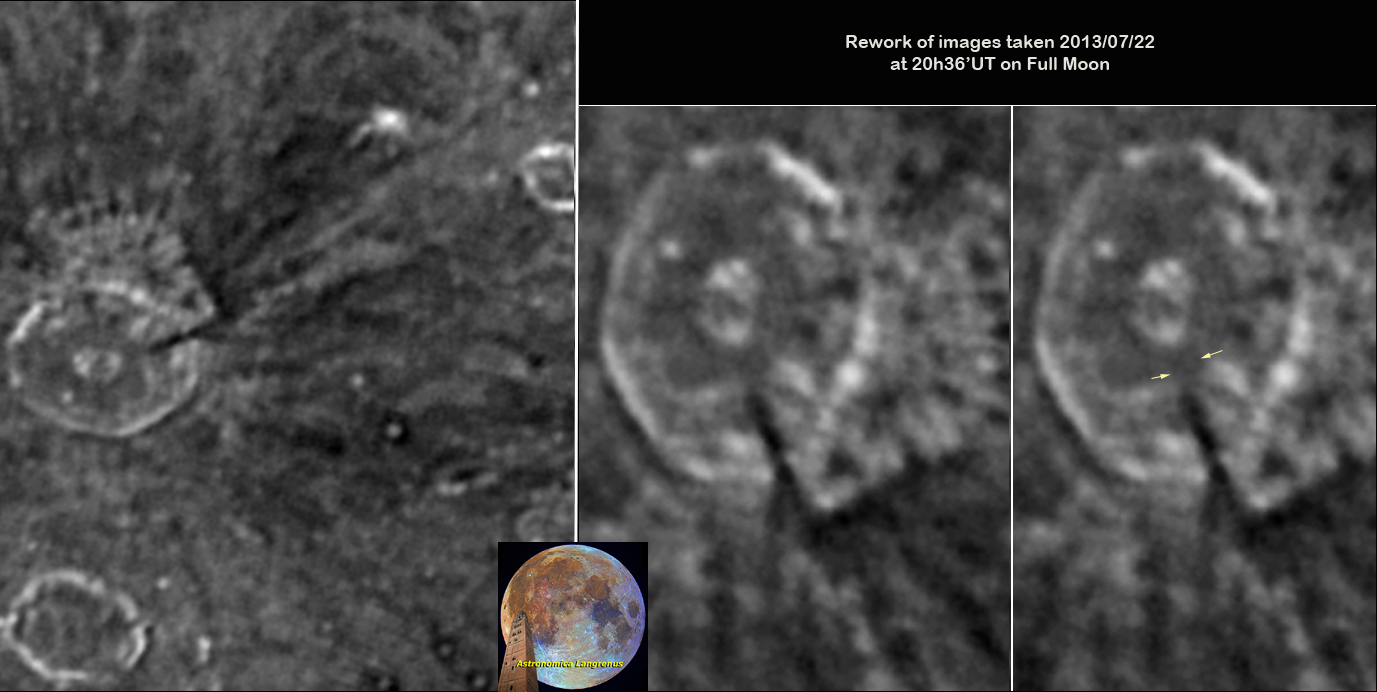 (Up): I send a rework of the images captured on 2013/07/22 at 20h36'UT in full moon, I just tried to evidence (perhaps...) the detail at Y, but unfortunately the resolution is very poor and I did not get any better. In any case at the point where the base of the Y ends in the floor near some reliefs, I see an unlikely continuation of the segment in direction of the central mountain peak. In this section, the low albedo reduces the contrast, while passing through some reliefs and NE's crater wall Y's darker materials stand out better. Unfortunately in this week the seeing is very bad for taken new images.
---